Träningsrapport torsdag med tufft konditionstest på is och mer om Speers via bloggare från New Jersey Devils där centern draftades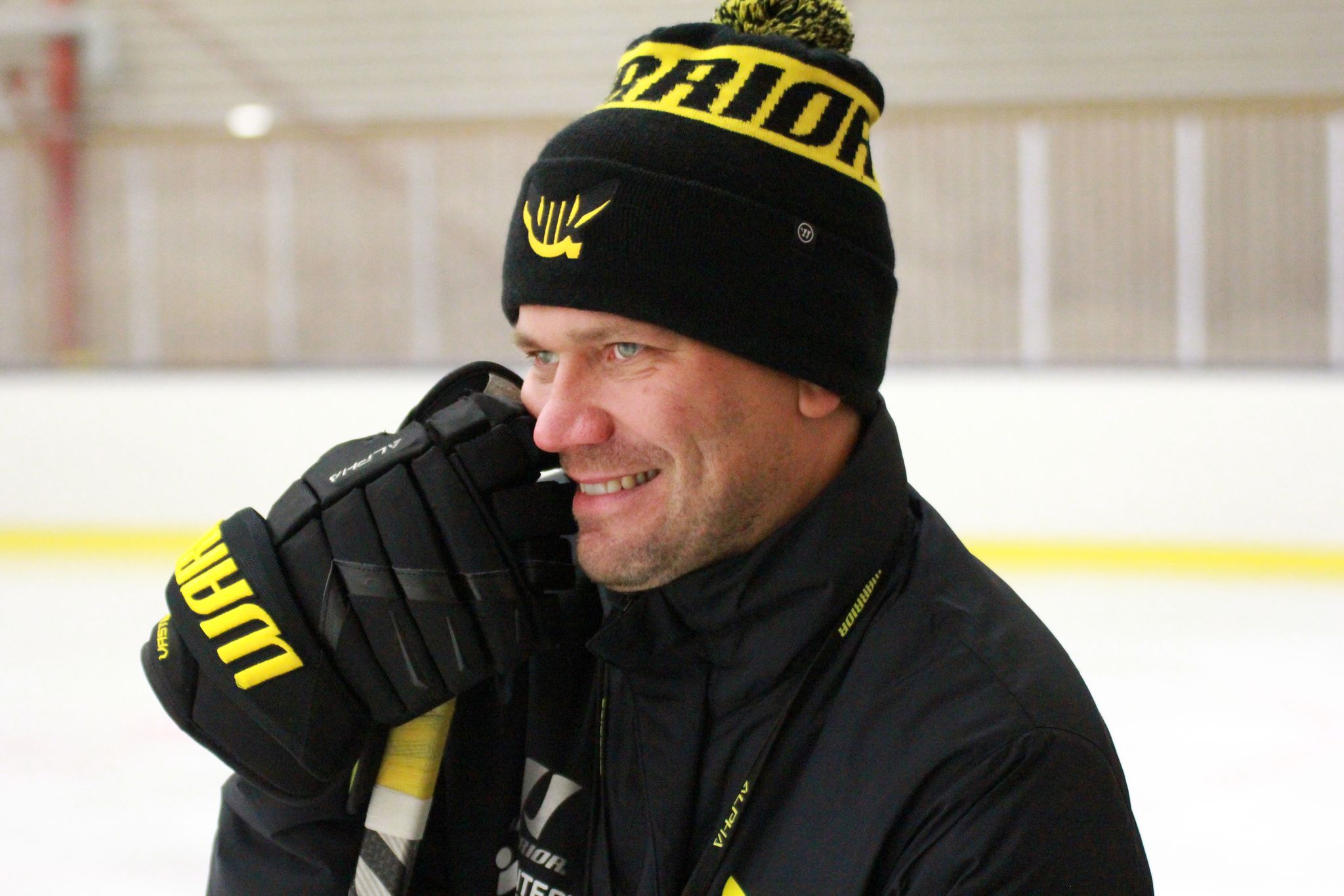 Bloggen besökte torsdagens träning i Mimerhallen. Alltid intressant att följa det dagliga slitet och nötandet bakom kulisserna för professionella idrottsmän.
Noterbart:
Det märks att Johan Gustafsson är en ledare. Målvakten tog vid verbalt med kraft efter en genomgång av Paananen och Fagerlund. JG instruerade hur han ville ha det. Men JG ska också vara välbalanserat självkritisk.
Kokkonen stod för några fina höga flippmackor – en försmak på vad som kommer under säsongen?
Backcoach Patrik Fagerlund instruerade skridskoskicklige Patrik Parkkonen noga, ungefär som då "Fagge" intensivt förädlade Logan Roe vid samma tidpunkt ifjol.
Nya centern Emil Aronsson och kedjekamrat Mathias From hade en tät dialog om någonting, där bägge verkade lika bestämda på sin sak.
Målvaktstränare Patrik Sjöström var högljudd och körde extra med Ian Blomquist i slutet.
Materialare Mio agerade linjedomare från bänken och markerade tydligt vid regelbrott.
Två ramträffar efter varandra av Speers innan kanadensaren nätade så här:
Speers gjorde även något bra instick efter en mottagning. Just puckhantering, passningsspelet och förmågan att täcka trissan för att göra offensiva grejer blir nyckeln för Speers efter många defensiva år i AHL. Läs mer om Speers resa nedan.
Skott och skridskoåkning verkar ju bra, baserat på vad bloggen sett och hört både här och i AHL.
***
Sedan var det dags för typ "idioten" på is, se nedan. Spelarna fick åka tills de nästan spydde. Speers, Cheek, DG och Bohm bitvis starka, utan att granska för noga.
Det verkar, baserat på denna övning nedan, som Speers och Cheek definitivt inte har fuskat med träningen hemma på andra sidan Atlanten. Alltid en bra start.
Så här såg det ut efter två långa pass med denna övning ovan:
***
Bloggen fick ett längre svar från skribenten John Fischer, som följer New Jersey Devils på bloggen All About the Jersey. Devils draftade ju Speers 2015.
Långt och på engelska, men kanske intressant för vissa läsare:
"Speers was drafted in the third round of the 2015 NHL Draft after his second season in major junior hockey with the Sault Ste Marie (Soo) Greyhounds. He took on a leadership role and produced over a point per game, which generally a positive for a draft eligible player. He became captain of the Soo Greyhounds in the following year and increased his production a bit more.  In 2017, he was doing quite well and even made Canada's WJC team, selected while out with a broken wrist.  He would play there and end up making his NHL debut after his OHL season ended.  However, when he made the jump to pro hockey full-time in the 2017-18 season with the Devils' minor league team, then the Binghamton Devils, he struggled. 
Speers was always working, but the skills he showed in the OHL did not really translate to the pro game.  His passing and shooting ended up needing more refinement, and while Binghamton struggled as a team, Speers fell on the depth chart quickly, with his season being cut short due to injury. In 2018-19, Speers was either fighting injury, fighting to make the roster, and getting fourth line ice time with some PK work when he did make the roster.  Speers, again, struggled to contribute much of anything and so he did not stay and was traded.  
Speers ended up being part of the trade package sent to Arizona in the Taylor Hall trade in 2019.  He put up a mere one assist in 10 games and, again, was limited to the fourth line when he did play in Binghamton.  Over in Tucson (Arizona's AHL affiliate), it appears that he again struggled to produce and maintain a regular roster spot between his performances and injuries.  His defensive game appeared to be fine based on what observations I could find.
Unfortunately, his 2020-21 season was cut short to just 4 games due to a season-ending injury.  He did stay a little healthier for Tucson and wore an 'A' for them, evidence of his leadership skills that he did have as a junior player and played in 2 NHL games for Arizona. However, his signing with Vasteras means he thinks his time in North America as a pro hockey player is done short of wanting to stay in the AHL and avoid the lower tier ECHL.
What this means is that I do not have a ton of personal observation of Speers. At one point, he was seen as a player with a legitimate shot with the NHL. Someone who can be a leader in addition to contributing in the middle of the lineup. 
Between the injuries and issues in development, Speers became what we call an AHL veteran. Someone who can play a role, even an important role, on a minor league team but would not be able to contribute more than that.  From what little I could glean from his time in Binghamton and Tucson, Speers was a capable penalty killer, a hard worker, and could play defensively – but expecting much offense or contributions beyond that would be expecting too much at the AHL level.
That all said, there are worse players to take a chance on. Speers definitely looked like a player that needed a change of scenery by the end of his second season in Binghamton; and going to Sweden may do him well rather than journey through the AHL. With all due respect, the AHL may be a more talented league than the HockeyAllsvenskan; so I am not so concerned about whether he could hang at that level.   I would expect a significant adjustment for that, though. Speers has not played on such a large ice surface before; the 2017 WJCs were in Montreal, so his one international tournament was played on NHL sized rinks.
That said, the larger ice surfaces may allow Speers that extra second or so to read and/or make a play, particularly on offense.  It may end up being a good adjustment; usually when good or even very good major junior hockey players struggle in pro hockey, the pace of the game is often an issue for the player and can be one that they may not be able to overcome – ending whatever potential they may have shown as a young player."
snapFB:

a:1:{i:0;a:46:{s:11:"rpstBtwDays";a:5:{i:0;s:1:"1";i:1;s:1:"2";i:2;s:1:"3";i:3;s:1:"4";i:4;s:1:"5";}s:11:"rpstRndMins";s:2:"15";s:12:"rpstPostIncl";s:0:"";s:8:"rpstType";s:1:"2";s:12:"rpstTimeType";s:0:"";s:12:"rpstFromTime";s:0:"";s:10:"rpstToTime";s:0:"";s:10:"rpstOLDays";s:0:"";s:10:"rpstNWDays";s:0:"";s:10:"nxsCPTSeld";s:0:"";s:7:"tagsSel";s:0:"";s:11:"rpstBtwHrsT";s:2:"21";s:8:"tagsSelX";s:0:"";s:14:"rpstBtwHrsType";s:1:"A";s:11:"rpstBtwHrsF";s:1:"8";s:5:"nDays";s:0:"";s:4:"nHrs";s:0:"";s:5:"proxy";s:0:"";s:5:"fltrs";a:4:{s:14:"nxs_cats_names";a:0:{}s:14:"nxs_tags_names";a:0:{}s:23:"nxs_count_meta_compares";s:1:"1";s:23:"nxs_count_term_compares";s:1:"1";}s:7:"fltrsOn";s:0:"";s:4:"nMin";s:0:"";s:5:"qTLng";s:0:"";s:1:"v";i:360;s:2:"do";s:1:"0";s:5:"nName";s:13:"vikfancentral";s:9:"msgFormat";s:77:"Nytt inlägg (%TITLE%) på %SITENAME%. %IMG% %ANNOUNCE%. Läs mer här: %URL%";s:10:"msgAFormat";s:0:"";s:11:"msgATFormat";s:0:"";s:11:"msgACFormat";s:0:"";s:6:"appKey";s:15:"273915312709351";s:6:"appSec";s:32:"fe27f80941db1b1766c39d6cd8a82955";s:4:"pgID";s:13:"vikfancentral";s:11:"accessToken";s:0:"";s:8:"authUser";s:0:"";s:12:"authUserName";s:0:"";s:15:"pageAccessToken";s:0:"";s:15:"appsecret_proof";s:0:"";s:8:"postType";s:1:"I";s:10:"attachInfo";s:1:"F";s:6:"imgUpl";s:1:"T";s:5:"fbURL";s:37:"http://www.facebook.com/vikfancentral";s:8:"destType";s:0:"";s:11:"attachVideo";s:1:"N";s:10:"riComments";i:0;s:12:"riCommentsAA";i:0;s:3:"tpt";s:0:"";}}

snap_isAutoPosted:

1660253383

enclosure:

https://vikfancentral.se/wp-content/uploads/2022/08/video-1660218453.mp4 4726017 video/mp4, https://vikfancentral.se/wp-content/uploads/2022/08/video-1660218445.mp4 3964697 video/mp4

snap_MYURL:

snapEdIT:

1

snapTW:

s:421:"a:1:{i:0;a:12:{s:2:"do";s:1:"1";s:9:"msgFormat";s:51:"%TITLE% %SURL% #vikhockey #twittpuck #vikfancentral";s:8:"attchImg";s:1:"0";s:9:"isAutoImg";s:1:"A";s:8:"imgToUse";s:0:"";s:9:"isAutoURL";s:1:"A";s:8:"urlToUse";s:0:"";s:4:"doTW";i:0;s:8:"isPosted";s:1:"1";s:4:"pgID";s:19:"1557841718824796164";s:7:"postURL";s:60:"https://twitter.com/VIKFanCentral/status/1557841718824796164";s:5:"pDate";s:19:"2022-08-11 21:29:43";}}";